Object of the Month

The Hunter's Hill Golf Club Record Book is of historical significance and provides insights into the sporting and social history of the Hunter's Hill area in the early twentieth century. This book is the only known surviving record of the club.


The book records the earliest results of the club and interclub matches up until 1907, and relevant newspaper clippings add further information.

Adding to the historical significance of the book is the inclusion within it of associated ephemera such as the Rules of the Hunter's Hill Golf Club - 1903, season fixture books for 1901, 1902, 1910 and 1911 (including events and committee members).

Membership of the club was limited to residents of Hunter's Hill, Woolwich and Gladesville and listed within the records are prominent members of Sydney society, most notably William Archibald Windeyer, solicitor and community stalwart.

The Hunter's Hill Golf Club was formed in 1900 and was located within the grounds of the Gladesville Hospital overlooking the Parramatta River.
The Sydney Mail and New South Wales Advertiser of 16th March 1901 provides us with a glimpse of the course and its players:

'Hunter's Hill G.C. has scored a second win over the Lindfield men.The Hunter's Hill men are enthusiasts, and have done a deal of play this summer. The drawback of their course is that it is very stony, and I heard them irreverently described the other day as 'The Rock's Push' in consequence, though except for the rocks on the course nothing could be less descriptive of a particularly happy, sportsmanlike, and hospitable set of golfing aspirants. The club was only formed last year, but the members have never stopped playing since its formation.'




It was one of the original members of the Suburban and Country Golf Association (which evolved into Golf NSW). The club's demise demonstrates how urban expansion changed the landscape of Sydney. The club was compelled to amalgamate with Pymble Golf Club in October 1932, following the resumption of the course for expansion of the hospital.
Read/download pages 1 - 20 from here (2.75 mb in .pdf format)
Read/download pages 21 - 40 from here (4.30 mb in .pdf format)
Read/download pages 41 - 60 from here (5.50 mb in .pdf format)
Read/download pages 61 - 80 from here (6.17 mb in .pdf format)
Read/download pages 81 - 100 from here (4.60 mb in .pdf format)
Read/download pages 101 - 120 from here (2.55 mb in .pdf format)
Read/download pages 121 - 140 from here (1.10 mb in .pdf format)
Read/download pages 141 - 160 from here (5.30 mb in .pdf format)
Read/download pages 161 - 180 from here (4.44 mb in .pdf format)
Read/download pages 181 - 200 from here (6.67 mb in .pdf format)
Object Name:
Hunter's Hill Golf Club Record Book 1900-1920
Accession Number: 2004/268 Significance Criteria: Historic, social
Comparative Criteria: Provenance, rarity, completeness or intactness
---
'Gassiat' Style Putter



The original wooden-headed putters in this     style were known as "Chantilly" putters for the home town of their inventor, the Marquis de Chasseloup-Loubat.

They were - according to later reports - first used in 1911, but came into prominence after being used by Jean Gassiat to win the 1911 French Open.
They were - thereafter - universally known as "Gassiat" putters.
The Museum's example has the name "R. J. Gibson" stamped above the sight line. R. J. Gibson was the son of club manufacturer Charles Gibson of Royal North Devon Golf Club (Westward Ho!), and served as the pro at Royal Calcutta for many years. There were several other Gibson sons who served as professionals around the empire, and - according to the 'Compendium of British Club Makers' (Peter Georgiady, Airlie Hall Press, 2004) - the clubs they sold were all manufactured by their father's shop.
Another of Georgiady's volumes – 'Wood Shafted Golf Club Value Guide' (Airlie Hall Press, 2009) – supports the notion that this may be a club of Gibson Senior's manufacture by listing an entry under Charles Gibson for "Putter – Gassiat-type – large wood head".
The club at the Museum appears to have been re-shafted at some during its life. We have been unable to locate any other record of a steel-shafted R. J. Gibson 'Gassiat' style putter, and there is evidence underneath the hosel whipping of odd – but very neat – sawed wood joints and subsequent finishing. We were tempted to remove the sole plate in search of evidence of the earlier fitting of a of bore through shaft, but we were not confident that the patient would survive such radical surgery.
Object Name:
'Gassiat' Style Putter
Accession Number: 2016/089 Significance Criteria: Historic
Comparative Criteria: Rarity/Representativeness

---
George G. Bussey & Co. Club Carrier
In the early days of golf, caddies hired by   players were responsible for carrying a golfer's clubs, for teeing up their balls, locating 'lost' balls, and numerous other menial tasks that might detract from the players enjoyment of their game.

His salary was basic and his equipment non-existent - he was expected to carry his master's golfing implements under his arm. On this basis, the satisfactory performance of his many duties must have been quite an exercise in dexterity.

The caddie's lot changed considerably with the introduction of specially designed club carriers, and the Australian Golf Heritage Society Museum holds a very handsome example of an early 'club carrier' in its collection.


Late 18th century golfer & caddy - artist unknown
The George G. Bussey & Co. club carrier was manufactured around the end of the nineteenth century to carry between six and eight clubs - the standard complement of the day. It consists of a stained board with a truncated oval canvas 'bag', a smaller canvas pouch, a carrying handle and retractable wooden legs.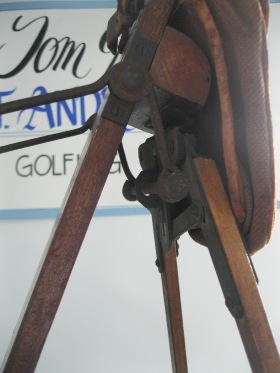 It is interesting that this club carrier is called  the 'Empire Patent Caddie'. This suggests that it was thought that this style of equipment would replace the need for a human caddie, and enable golfers to carry their own clubs over the golf course.This particular example was found hidden in the rear of the clubhouse at Northbridge Golf Club in the late 1990s, and had been there for many years. No further history relating to this object is known.
Object Name:
Club Carrier
Accession Number:
2000/095
Significance Criteria:
Historic, social
Comparative Criteria:
Provenance, rarity, completeness or intactness
---
1959 NSW Vardon Trophy
According to the current rules, the 'Vardon Trophy is open to male amateur golfers who hold a current Australian or overseas equivalent handicap, and who have a handicap of 4 and under. The Vardon Trophy runs for 12-months, throughout the calendar year.
The winner of the Vardon Trophy is the player who has the lowest scoring average for the 12 months and has played a minimum of 25 rounds. The players worst round is dropped after 25 rounds and another of their worst rounds are dropped with each subsequent five rounds played'.1
in 1988, the rules were a little different: 'The Vardon Trophy competition is open to all golfers with an AGU handicap of seven or less (10 or less for juniors).
Scores recorded will be adjusted to par 70 and a player will be credited with 86 if he enters an event and fails to appear, does not return a card or is disqualified. After 15 rounds the worst score can be discarded, after 17 rounds the next-worst score and from then on round for round'.2
The rules that applied in 1959 - the first year it was held in NSW - are lost to time, but what is not lost is the trophy awarded at the conclusion of the competition.



1959 NSW Vardon Trophy
(click to enlarge)


 The inaugural NSW Vardon Trophy for the
 leading male amateur golfer was awarded to Vic
 Bulgin with an average over 35 rounds of 74.7.

 A talented all-round sportsman,Victor John
 Bulgin (1927-2006) represented Australia in golf
 and NSW in rugby league

,

and was also selected
 for the 1948-49 Kangaroos.

 Bulgin also served in the New South Wales Police
 Force and in 2008, rugby league's centennial
 year in Australia, he was named at fullback in a
 NSW Police team of the century.

 He was runner-up to Kel Nagle in the 1959
 Australian Open. In 1966, he was runner-up to Bill
 Britten in  the Australian Amateur Championship
 (matchplay), but claimed the Australian Medal as
 the winner of the stroke play stage of the
 championship.
This trophy is currently viewable in the Museum as part of our 'Amateur Golf Trophies' display.
The full list of the winners of the NSW Vardon Trophy to date is:
| | |
| --- | --- |
| Year | Winner |
|  1959 |  Vic Bulgin |
|  1960 |  Bruce Devlin |
|  1961 |  Phil Billings & Tom Crow |
|  1962 |  Kevin Hartley |
|  1963 |  Kevin Donohoe |
|  1964 |  Phil Billings |
|  1965 |  Bruce Nairn |
|  1966 |  Phil Billings |
|  1967 |  Harry Berwick |
|  1968 |  Tony Gresham |
|  1969 |  Tony Gresham |
|  1970 |  Tony Gresham |
|  1971 |  Noel Ratcliffe |
|  1972 |  Tony Gresham |
|  1973 |  Tony Gresham |
|  1974 |  Tony Gresham |
|  1975 |  Tony Gresham |
|  1976 |  Tony Gresham |
|  1977 |  Tony Gresham |
|  1978 |  Tony Gresham |
|  1979 |  Tony Gresham |
|  1980 |  Colin Kaye |
|  1981 |  Tony Gresham |
|  1982 |  Tony Gresham |
|  1983 |  Jeff Wagner |
|  1984 |  Gerard Power |
|  1985 |  Brett Ogle |
|  1986 |  Ray Picker |
|  1987 |  Chris Longley |
|  1988 |  Lester Peterson |
|  1989 |  Lucas Parsons |
|  1990 |  Lucas Parsons |
|  1991 |  Lucas Parsons |
|  1992 |  Matthew Ecob & M. Holland |
|  1993 |  Paul Gow |
|  1994 |  Bryce MacDonald |
|  1995 |  P. Sheehan |
|  1996 |  Brendan Jones |
|  1997 |  Brendan Jones |
|  1998 |  P. Sheehan |
|  1999 |  M. Smith |
|  2000 |  S. Gardiner |
|  2001 |  C. Campbell |
|  2002 |  A. Groom |
|  2003 |  James Nitties |
|  2004 |  A. McKenzie |
|  2005 |  Won Joon Lee |
|  2006 |  Won Joon Lee |
|  2007 |  Rohan Blizard |
|  2008 |  B. Smith |
|  2009 |  B. Smith |
|  2010 |  Matt Stieger |
|  2011 |  Brett Drewitt |
|  2012 |  Brett Drewitt |
|  2013 |  Jordan Zunic |
|  2014 |  Cameron Davis |
|  2015 |  Austin Bautista |
Object Name: Vardon Trophy
Accession Number: 2011/9 Significance Criteria: Historic, social
Comparative Criteria: Provenance, rarity, completeness or intactness
1 http://www.golfnsw.org/vardon-landing
2 The Canberra Times, 11 February 1988


---
Orizaba Power-Pod Driver
The Australian Golf Heritage Society regularly sets up displays at golf events - the Australian Open, the NSW Open, the Ladies NSW Open, and so on. At each of these events, objects from the Museum are rotated through the displays so that visitors can see quality artefacts from the rich history of golf.
Regardless of the rarity, value, collectibility or provenance of clubs that are put on public view, one that always grabs the attention of visitors is the Orizaba Power Pod driver.
As recorded on www.golfwrx.com "It was the ultimate anti-slice club at a time in the mid-1980s when adjustable drivers and movable head-weights were only a dream. No adjustment necessary with this club: It was designed for golfers determined to turn their bananas into a "power fade," no matter how ugly the process became. And the PowerPod, even to those who swore by it, was pretty ugly. It was a purple, polyurethane, plumbing-like fixture aligned on the shaft so that it pointed toward the golfer to such an extent that a normal swing would deliver the ball off a right-hander's left shin. But thanks to slicers everywhere, more than a million were sold. Unfortunately, according to designer Jim Flood, "About a third came back broken"."
Ross Baker - adding value to an AGHS Facebook page post last year - added "The head of the Power Pod was made out of ground glass and epoxy, and was virtually indestructible. It was because of the durability of the resin head that Jim Flood - the owner of Orizaba - backed every club with a lifetime guarantee. And that was why his company went broke. Where they failed was the stainless ring around the head, which attached the head to the neck. The ring would crack, especially when many shots were hit off the toe - ironical as they were targeted at the slicer - as they were touted to virtually eliminate a slice! (Which they didn't)."
"Unbelievably, it doesn't matter where I do a display or what I have in the display, the one club everyone comments on is the Power Pod, they'll walk straight past a Tom Morris "Scare Neck" putter to get a closer look at a Power Pod. Did you know there were fairway woods (Maxi Buster and Mini Buster) and irons as well?"
Want to debate the finer points of the Orizaba Power Pod - try the AGHS Forum.
Object Name:
Orizaba Power-Pod Driver
Accession Number:
2013/011
Significance Criteria:
Scientific, research or technical
Comparative Criteria:
Condition, completeness or intactness
---