Articles
Colin Strachan on Dr Ewan Frazer – Pioneer in Australian Golf
This talk by British golf historian, Dr Colin Strachan, was organised jointly by AGHS and the Australian Golf Club. It took place on the evening of Monday 27 February at the Australian Golf Club. Seventy one people attended.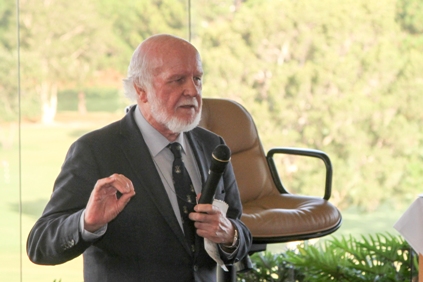 AGHS golf historian Michael Sheret introduces Colin (click for larger image).
Colin held the attention of his audience admirably with a well-researched interesting topic and an excellent PowerPoint presentation. The Frazer family is an interesting one, from rags to riches in Australia in the 19th century. Ewan Frazer was the Honorary Secretary of the Australian Golf Club. Over the period 1903 to 1905 he was the driving force in securing the land at Kensington for the Club's present course, often putting his own money on the line for the land and the construction of the course and clubhouse.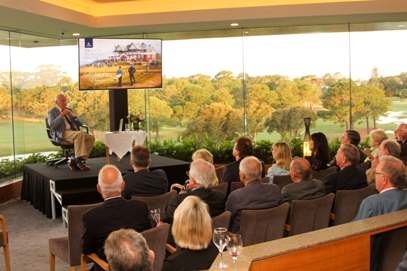 Colin Strachan and some of his audience (click for larger image).
He was also the driving force in getting the first Australian Open up and running in 1904 and holding it at The Australian Golf Club at their Botany links. On his return to England both he and other members of the Frazer family were prominent in the development of Royal Ashdown Forest, Colin's home golf club. A man of many parts, Ewan Frazer was also a pathologist and played a significant part in the development of the Department of Pathology at Oxford University.
The whole evening was a great success. Champagne on arrival, a riveting talk, a rapt audience, a gourmet dinner with unlimited wine, excellent service and a convivial atmosphere. All this in the beautiful setting of one of Australia's most prestigious golf clubs. AGHS members interested in golf heritage and having an enjoyable evening at a bargain price, and didn't attend, missed out badly.
AGHS President John Buckley giving the vote of thanks.
A special thanks goes to Don Dunne, a member of both the Australian Golf Club and the Australian Golf Heritage Society, for his tireless work in publicising this event and making it a success.
- Michael Sheret

---
Perry Somers - Ten Questions
Many AGHS members would be familiar with the name Perry Somers. A member of both the Australian and German PGA, Perry's hickory honours include being a twice winner of the Australian Hickory Shaft Championship (2009, 2010), winner of the World Hickory Open in 2010, twice victor at the L'Open de France (2009, 2012), winner of the International Dutch Hickory Open in 2016, and numerous 'podium' finishes.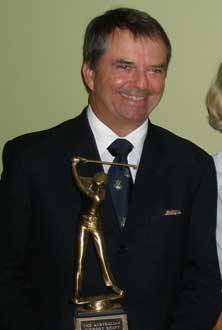 Perry Somers - 2010 Australian Hickory Shaft Champion


Now based in Cologne, Germany, Perry was recently interviewed by North-West Hickory Players (U.S.) co-founder Robert Birman as the lead-off subject of a new series of interviews with avid hickory players.

The ten questions asked by Robert, and the replies follow:

1. The back-story - A diminishing number of passionate hickory golfers today know the names of the few-dozen men and women who championed the rebirth of the interest in this game. It is fascinating to me that the development and momentum of this interest has been steady across the globe in the last 10-15 years. What was your path, and who - if anyone - inspired you to get started in this niche of the game years ago?

Answer: Initially, there were no inspirational figures. I simply had a fairly superficial interest in the history of the game. I was member of the Golf Society of Australia who had organised a nine hole hickory outing on the fabulous Kingston Heath course in Melbourne. After just two holes I knew I had found what I had been missing in recent times from the game. Since joining the British Golf Collectors Society I have been inspired by Iain Forrester and the inimitable President Philip Truett.

2. The hardware - You've earned more than your fair share of trophies and awards in the hickory golf community globally - congratulations. You comport yourself with class and professionalism and are one of few truly global ambassadors for the game. First, what do you do with all of that hardware, and second, if you could only keep one item, which would it be and why?

Answer: I'd like to know what ones "fair share" would be actually. I don't have many trophies at home, as most are of a perpetual nature. I have been fortunate enough to win some lovely medals over the years that have been beautifully inscribed with relevant motives. Forced to choose, which I would not enjoy doing, I would probably choose the first medal I ever won, which was the 2009 French Hickory championship. By the way this was my first, of many, head to head battles with Randy Jensen, as it was a handsome medal embossed with the scene of the opening day of the Chantilly G.C. in 1909.

3. The gear - Few hickory players travel and compete as much as you do. How many clubs go with you on a typical trip? Can you tell us about your favorite play clubs and comment on considerations you make in adding or subtracting clubs based on specific events?

Answer: Your readers are bound to be disappointed with my lack of information as I am well aware of the amount interest in the technical aspects around the US hickory scene. I carry seven clubs for parkland golf, ( Brassie, Baffy, Cleek, Mid Iron, Mashie, Mashie Niblick and Putter) a complete fruit salad of brands and makers, and two more for links golf. ( A Driver for a more penetrative flight in the wind and a Niblick for the Pot Bunkers. ) Favourite: possibly the Mashie Niblick.

4. The ladies - Social media allows us all to see the growing number of players who turn out for big and small events around the globe. I know you're a student of golf history and you (like me) admire Joyce Wethered, among other historical figures. How often, today, do you get to play rounds with female hickory golfers and what are your general observations about the growth of the women's game in our sport?

Answer: You are absolutely correct in your assumption to my Joyce Wethered allegiance. I am also considerably jealous of her life in general. On and off the course she led a charmed existence. Starting with a childhood full of summer holidays in Dornoch to the incredible success in tournament golf, playing matches in the US with the immortal Bobby in the "hard times" of the depression through to marrying into substantial wealth and becoming Lady Heathcoat- Amory! As to the ladies scene here in Europe, I can report a continued increase in female participation from event to event. The queen of the European Hickory scene is my friend Britta Nord from Sweden with whom I have been fortunate to play many times.

5. The competition - Match play and stroke competitions, in hickory golf, almost always combine an equal measure of affection and determined competition. Every player wants to win, but most would never trade that for the warmth and spirit of friendship that stems from our community of players. I have found that my favourite match was one that I was virtually certain not to win, and I didn't, but I enjoyed that round more than any other I can remember. Without naming names, unless you care to, can you reflect on a favourite match in your memory and what made it so memorable?

Answer: I couldn't agree more. The matches we play in early June on the Norfolk Coast against Royal West Norfolk and Hunstanton G.C. respectively, for example, are the most pleasant golf days I have ever enjoyed. No pencil & card golf! Just foursomes followed by a convivial lunch.

6. The travel - Few have logged the miles you have in this sport. Are there any simple principles you can share about making hickory golf trips, and the act of packing, fairly efficient? We golfers often have to plan for inclement weather. How do you handle your own preparation, in terms of clubs, apparel and luggage?

Answer: Given the disgusting way baggage handlers around the world handle our luggage, I take the extra precaution of packing all my clubs inside a PVC tube that is superb protection for the shafts. See photo below. I make no extra plans for inclement weather. I play in a tweed jacket and that was good enough for Braid, Vardon, Taylor and Co. So I have to do the best I can in the conditions with the relevant clothing.
Perry's PVC Tube Club Carrier (click to enlarge)

7. The collection - I'm curious if there is any one club, ball, medal, or golf collectors' item you would choose, if you could find anything in all of golf history (and someone else would pay for it!) What might that be, and as important, what would you wish to have done with it once you are gone?

Answer: This is where I "out" myself as non hardline collector. I wouldn't have a club or medal as such, however I dream of playing St. Andrews or any traditional links course with a traditional set of long nose play clubs and the feathery ball. That would be very special!

8. The off season - With your travel schedule, you may not have a clear cut off season, but my question is about care and maintenance of your play set. Do you have annual routines you follow to keep your clubs in peak playing condition?

Answer: I do indeed have an off season and by the way, I am no longer as active as previously. I do give my hickories a winter reconditioning. Generally a light sanding down and a light coat of shellac.

9. The shot-making - I think most golfers have a shot or two that we enjoy re-living in our memory when we reflect on our time on the links. Can you share one of yours - what course, which hole, what shot did you pull off?

Answer: One that springs to mind was in the re-enactment of the "1870 Great Match" against Randy Jensen. We had played for three days on three different courses St. Andrews, Prestwick and North Berwick and I was one up on Musselburgh's 15th hole. The hole was a par four with a very difficult two tiered "table top" green. I had driven in the light whispy rough and suspected a "flyer" from the lie. I lay no more than one hundred and forty yards from the hole which was cut up on top of the table. There was no chance of stopping anything played high ( a modern shot) so I played what used to referred to in the hickory era, as a "push shot". Basically a pitch shot with the mid iron out of my hands and arms only, that flew on a low trajectory, pitched in front of the green and scampered up the steep tier to settle eighteen inches behind the cup. The birdie set me two up and another followed on the par five seventeenth which brought the match to it's conclusion.

10. The future - As someone who meets players all over the world, what's your prognosis for the future of hickory golf?

Answer: I most certainly do not have a crystal ball, however, I am very concerned at the lack of interest in the true traditions and the lack of effort to re-create the atmosphere of the early 1900s. Far too many corners are being cut and compromises too readily sought. Too many people using carts and trollies, too many wearing modern clothing, particularly in poor weather and far too many playing non traditional equipment. There will most certainly come a time when all the original hickory clubs have been purchased, used and broken, but that is thankfully not currently the case.
This article appears courtesy of the North West Hickory Players and  Mr. Perry Somers. The Australian Golf Heritage Society would like to thank them for their generosity.

---
Retrofitting Hickory Shafts
NOTE: Subsequent to this article being written, the Australian Golf Heritage Society has decided to follow the lead of the U.S. based Society of Hickory Golfers, and allow wooden headed clubs retrofitted with hickory shafts to be used in AGHS sactioned competitions. Refer to the updated 'Golf Equipment Standard for Hickory Events'

---
The published aims of the Australian Golf Heritage Society are to:
Encourage the collection, recording and preservation of information that is connected to the history of golf in Australia,
Verify the authenticity of physical items associated with the history of golf in Australia and provide a means of storing, restoring and displaying these physical items,
Inform golfers, golf clubs and the wider community of this information and display these physical items in a manner which tells their story, and
Promote hickory events as a celebration of the origins of the game.
In the past the Society and its members have managed to adhere to these guidelines reasonably well, but as interest in the history of the game increases, we find that these aims can sometimes come into conflict, particularly where hickory events are involved.

We have published - in our current 'Golf Equipment Standard for Hickory Events' - the following as our approved standard for wooden headed clubs:

Wooden Headed Golf Clubs, with plain wooden shafts:
Must have Heads manufactured before 1940.

Shafts may be repaired or replaced with an old or new shaft.

Must have a 'leather wrap' grip.

Weight may be added to the head.
Further to this, we say by way of 'Explanatory Notes':

It is understood that old golf clubs manufactured prior to 1940, may not be in very good condition and need different levels of repair and maintenance.

The above guidelines make it possible for the owner of these clubs to do his/her own repairs and maintenance, if he/she wishes to do so, without further expenditure.

Generally, any repair or renovation that would have been performed prior to 1940 is acceptable.

All enquires are welcome and should be directed to The Secretary, Golf Society of Australia Inc. or Australian Golf Heritage Society.

The supply of Australia specific clubs is – quite obviously – finite, and this is particularly true of the wooden headed clubs. As a relatively small market with a correspondingly small number of local club makers, it is also equally obvious – and counter-productive – to be using increasingly rare and increasingly valuable Australian clubs in play events.

It is indeed possible to buy clubs from the much larger United Kingdom and United States markets, but by the time that you have tracked down what you think are suitable clubs, purchased them sight unseen, and had them freighted down under, the cost is somewhere between prohibitive and extortionate . . . and there's still no guarantee that they will be playable. But there is a ready solution at hand.

On the other side of the Pacific, the Society of Hickory Golfers (SoHG) have recognised that a similar problem exists. They have arrived at a more comprehensive set of rules which caters for their much wider playing base. Included in the Rules is the following clause:

RETROFITTED CLUBS. – This category was created for clubs that were made PRIOR to Dec. 31, 1934. Any wood headed club offered for sale prior to 1935, regardless of shaft material originally installed at time of manufacture may be retrofitted with a wooden shaft and be permitted for play in SoHG sanctioned events.

Players must establish – independently or through the retrofitter or seller of these clubs – that the heads were indeed offered before 1935. No golf club made after Jan. 1, 1935 will be allowed in this category. It should be noted that no irons (iron headed clubs) have been approved to be retrofitted with a wood shaft for play.

Some time ago, Brisbane based AGHS member Ross Haslam took the SoHG supplementary rule on board, with the dual ideas of creating a hickory environment where the preserving of the precious local artefacts was possible, and obtaining a decent set of woods wasn't a one-way ticket to the poorhouse.

Ross purchases his 'raw material' from the United States, and he chooses pre-1935 rather than pre-1940 (as per AGHS hickory playing guidelines) as it is generally much easier to identify a pre-1935 wood compared to a pre-1940 version. Up until circa 1935 large American club manufacturers such as Wilson and Macgregor were offering hickory shafts as an option in many club styles, even though they had long committed to producing and promoting steel shafted clubs.

By the late-1930's manufacturers were often using numbers (1, 2, 3) and/or traditional names on wood clubs, and the use of the "Phillips head" screws in face inserts and base plates was increasing. They were also experimenting much more with club head design compared to the first half of the 1930's. As a consequence it can be very difficult to differentiate between a pre or post 1940 steel shafted wood club.

All of the wood clubs Ross has chosen to re-shaft are very easy to identify as pre-1935 via catalogues and many are sold in both original hickory or steel shafted versions online. Ross has done the AGHS a considerable service by documenting his retro-fitting process and choosing – unselfishly – to pass his expertise on to a wider audience. Over to you, Ross . . .
How I re-shaft a pre-1935 steel shafted wood with a new hickory shaft
Once you have your pre-1935 wood the first, and usually the most difficult step, in the entire process is to carefully remove the steel shaft without causing too much damage to the wood head.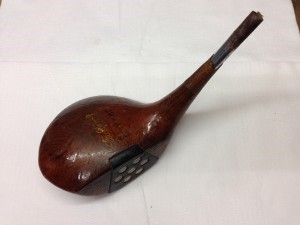 A circa 1935 steel shafted Leo Diegel "Banner" Wilson driver

The steel shaft of most pre-1935 steel shafted clubs was held in with 2 screws. The first is usually a longer screw, approximately 30mm long, running perpendicular to the hosel of the club and passing through the shaft to secure it into the clubhead. The second is a shorter screw approx 15mm long that skews back into the clubhead through the shaft where it penetrates through the base of the club.

On occasion you may find this screw is actually a pin that has been nailed through the shaft (these are difficult to get out). The other variation you may see, particularly in latter clubs, is that the screw through the hosel may have a very small head (making it very hard to extract) or may not have been used at all.
| | |
| --- | --- |
| A steel shafted wood showing the 2 places where the shaft is usually screwed | The shaft removed showing the 2 fixing points |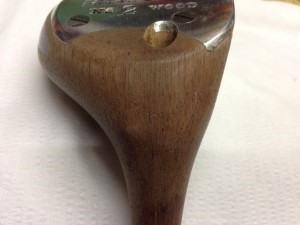 A pre-1940 Spalding Kro-Flite 2 wood with no hosel screw
Removing screws that have been in place for 80+ years can be a trying experience. They are nearly always slotted screws that are filled with dirt and other gunk and are often worn away leaving little slot for a screwdriver to fit into. A pair of loupes is essential for examining the condition of the slot and determining the angle that it is screwed into the club.

I use a Stanley knife blade to clean the slot as thoroughly as possible and make sure that I have a screwdriver that fits the slot snugly. You need to ensure the shaft of the screwdriver runs parallel with the angle that the screw has been inserted into the club and that pressure is exerted directly down the shaft, you only get one go to get these screws out. If not the blade can twist out of the slot and damage it to a point where you will be unable to apply any pressure to remove the screw.
 
If they refuse to budge (and they often do) I drill them out from the base with a bit that just fits into the hollow centre of the shaft. After drilling up through the shaft the head of the hosel screw usually sticks up enough to grab with a pair of pincers or fine pliers. Remember that the end of both screws will both need to be punched into the clubhead to clear the inner wall of the steel shaft. Once they have been punched clear the shaft should turn freely and can be pulled out. If the shaft doesn't turn freely chances are one or both of the screws will not have been punched clear of the shaft.

The remaining clubhead can now be trimmed and bored out ready for fitting of the new hickory shaft. I cut the hosel at the point where the width of the hosel will match the diameter of the new hickory shaft. Because the hosel of a steel shafted wood is narrower where it meets the steel shaft you will need to cut the hosel closer to the clubhead than you would for a normal hickory shafted club. This in turn means that the whipping will run closer to the top of the clubhead than a normal hickory shafted club.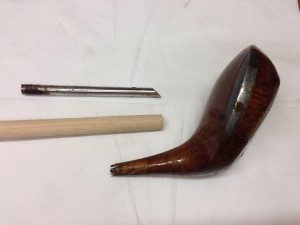 The angle of the hosel is much greater in a steel shafted wood
I bore out the hosel using a step-drill that steps from 4mm to 12mm in 9 graduations. I use the "CraftRight" brand from Bunnings which come in a set of 3. There are more expensive single bits that have 12 graduations but I find the Bunnings bits are fine. I have lengthened my bit by adding a hex bit from a socket set. This allows me to drill through the hosel with plenty of clearance. I drill the hosel by hand using a cordless drill with the clubhead secured in a vice.

I generally drill through the base until the 4-6mm graduation appears, from my experience this gives a hole in the base of a similar size to what is normally seen in hickory clubs. With the hole from the steel shaft already running through to the base of the club it is just a matter of using this as a guide and slowly advancing the step bit. You may shave a bit off the base plate, depending where the steel shaft exited the base, but being aluminium or brass the step bit handles this easily and will leave a neat oval shape (see the Kro-Flite above).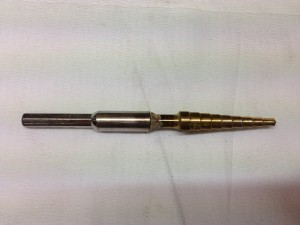 4 to 12mm step drill bit attached to hex bit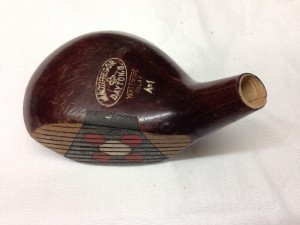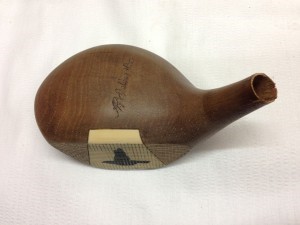 Examples of some clubheads trimmed and bored out ready for re-shafting
Fitting the new hickory shaft is now simply a matter of carefully filing down the end of the shaft until it is a reasonably snug fit into the new bored-out hosel. I have a selection of files and rasps that I use for this. Once I'm happy with the fit I set it in place with "Ultra Clear" Araldite (you can use whatever glue you prefer). The important thing at this point is to ensure the grain of the shaft runs perpendicular to the face of the club.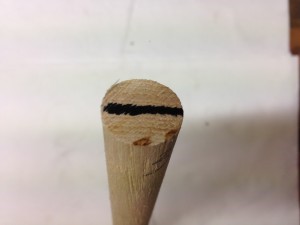 I mark the grain on the butt end of all my shafts so that aligning the shaft is no problem.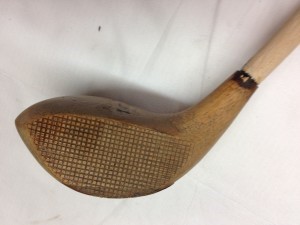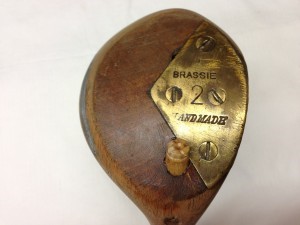 Re-shafted wood showing new hickory shaft protruding from the base
Now that the shaft is set into place all that remains is the finishing of the club. To ensure a seamless transition where the hosel and shaft meet I use epoxy putty carefully sanded back. It is a time consuming process but if done well the taper from clubhead to shaft is as indistinguishable as it is in all hickory shafted woods. The nice thing about epoxy putty is that it will take stain so you can colour it to match the club head or shaft if you desire.
| | |
| --- | --- |
| Re-shafted woods showing the epoxy putty prior to finishing | It can sometimes take 2 or 3 goes to get the join seamless from every angle |
| | |
| --- | --- |
| Epoxy putty join finished and stained | The finished join with whipping applied |

The screw hole at the back of the hosel can sometimes be the only giveaway that a once steel shafted wood has been re-shafted with a hickory shaft. After experimenting with casting resin to repair a damaged face insert I decided that resin would be the ideal material to fill the hole left by the hosel screw. I place the club in the vice making sure the hosel area is level. The casting resin I use takes 5-10 minutes to set so when ready I line the hole with 5 minute Araldite and then carefully syringe in the resin to just overfill the hole. When set it can be filed or sanded down to the desired finish. I have begun stamping my resin plugs with the letter that represents the wood, so "B" for Brassie and so on. If the club has an insert face I try to match the plug colour to the colour of the insert.
| | |
| --- | --- |
| Slightly overfilled resin plug in hole left by hosel screw | Green resin plug finished and stamped with "B" for Brassie |
As a lefty it is difficult to come across decent playable hickory shafted woods. In championship play I use an original hickory shafted Alex Patrick Brassie from the tee and a Spalding 2 wood (with a repaired insert face) from the fairway. I've yet to find a playable original hickory shafted spoon for use in championship play. In social play I use a re-shafted 1935 Walter Hagen "Tom-Boy" spoon.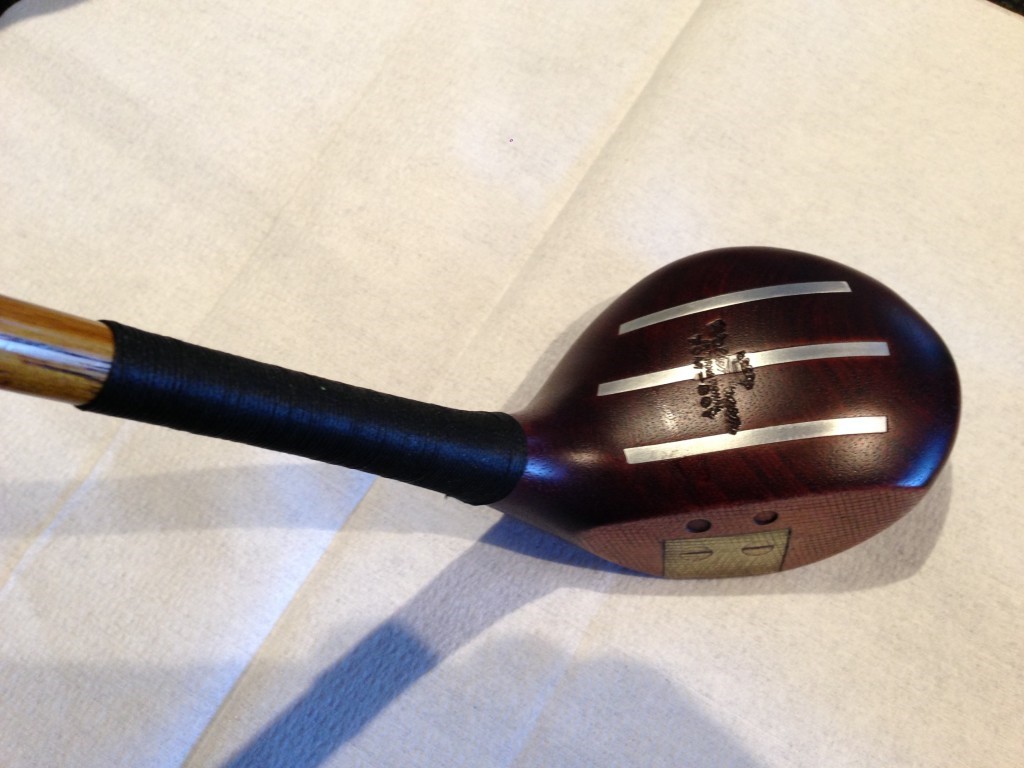 My 1935 Wilson "Walter Hagen Tom-Boy" re-shafted spoon
---
Early Golfers in Ireland, America, India and Australia
From the earliest days, military golfers have had a significant role in spreading the game of golf outside the British Isles. The mariners and civil servants of the British Empire also played their part in popularising the game in far foreign fields.




Bill with the Distinguished Service Award from Irish Golf Writers, 2011

On Thursday 28th April 2016, starting at 5 pm there will be an illustrated talk at the AGHS Museum by visiting golf historian, Colonel William Gibson.


Bill is a retired army officer. He has extensively researched the history of his own club, Royal Curragh Golf Club in County Kildare.


His research provided the evidence that Royal Curragh had its beginnings as far back as 1852, with military personnel posted to the area.


Bill was made an honorary life member of Royal Curragh in 2009. He has also researched and published the definitive work on the very earliest golf known to have been played in Ireland, dating back to the early 17th century.



If you intend coming to the talk, contact the History Sub-Committee via the Contacts page. Alternatively, telephone the AGHS Museum, 10am to 4pm Sundays on 02 9637 4720 at 4 Parramatta Road,(above Golf Mart), Granville 2142.


---
Peter Corsar Anderson - A Developer of Golf in Australia.

Barry Leithhead's collation of information on Anderson's contribution to the history of Australian golf.
GOLF IN AUSTRALIA was founded by people from 'the old country' who brought it here, with ancient implements and the desire to find suitable ground on which to play. That foundation was developed by others who followed – men like Peter Corsar Anderson.
Peter Anderson had two passions in his long life – education and golf. He was already an accomplished Scot when at age 25 he arrived in Australia in 1896, having graduated from the old St Andrews University with MA and post-graduate studies in Divinity. Anderson had also graduated from the Old Course at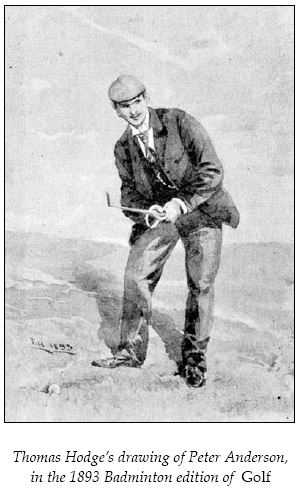 St Andrews, where he played often and well, holding for half a season the course record of 80, which was four under bogey. His golf was so good that in 1893 when only 22, he won the British Amateur Championship at Prestwick, beating JE Laidlay in the final. However, he was in poor health with pleurisy and hoped for a better climate in Australia. Arriving in Albany, then the major port in Western Australia, he met his elder brother Mark who was a shipping agent there and also a fine golfer.
Albany is some 360kms south from Perth, where the Antarctic wind first assaults the golf course. Mark suggested Peter settle in Melbourne, where he had been Champion of the Melbourne Golf Club in 1893. Peter did not delay and within a short time had taken up a tutoring position with a well-to-do farming family at Mansfield, 90kms north east of Melbourne. Six months later he was appointed a master at Geelong Grammar School (GGS) and became a member of Geelong Golf Club (GGC).
If his golfing results are an indicator, Peter regained his health quickly. Within a year he had set the course record of 79 for GGC and he reduced it to 76 in 1898 and 75 in 1899, a record that stood until 1904 when his brother Mark reduced it by a single stroke. Peter won the first Championship held at GGC in 1898 and was Champion for six successive years until 19031. Not surprisingly, Geelong won the Victorian State Pennants Championship from 1899-1901 and tied with Royal Melbourne GC in 1902. It is reported that in 1904 Peter Anderson won a pennant match 16 up! The Riversdale Cup was an important event and he won that in 1898-9 and 1902. Mark had won that Cup in 1896, its first year.
Consider the clubs Peter played with, bought from Tom Morris, paying 2/- for a head and 1/6 for a hickory shaft from America. His most expensive club was a brassie which cost 5/6. He won the Amateur Championship of 1893 at Prestwick with six clubs: a brassie, a mid-iron, a cleek (for long approaches), a mashie, a niblick, and a wooden putter he also used for the short game. As a reserve, he had a driver, which he did not use. At Geelong GC is it said he used only four clubs; driver, cleek, mashie and putter and rarely carried a bag for his clubs.
PC Anderson was reported to be one of those who selected the new site for the Royal Melbourne Course when that club's old links were becoming hemmed in by building projects2. He is also credited with laying out the Barwon Heads course at Geelong although the course did not open until 1907, well after he had gone to Perth.3
A Geelong Grammar student recalls:
PC Anderson ('Andie') joined the school direct from a world golf championship at St Andrews4 and was naturally an idol in the eyes of the sports loving community. His very broad northern accent captivated us and he joined the boys (chiefly juniors) on their excursions into the bush then surrounding parts of Geelong. Knowing nothing whatever of Australia and its bush life, he welcomed these days and in them learned something of the conditions of his adopted country.5
The GGS Quarterly reports:
Mr Anderson has taken his golf clubs down to the river on several occasions, and has kindly given some of the fellows some hints on how to use them, in the race-course paddock. One of the fellows did not seem to be very enamoured of the game, describing it as 'the most dangerous thing since Waterloo'. He, of course, spoke from sad experience.6
PC Anderson developed substantially as an educator in Geelong. He was a Master at the GGS senior school from 1896-99 and in charge of the Preparatory School from 1899-1900. In 1899 Anderson married Agnes Henrietta Macartney, the sister of the student he tutored at Mansfield and granddaughter of the Anglican Dean of Melbourne who in 1855 was one of the founders of Geelong Grammar School. Peter and Agnes became parents to six sons and seven daughters. He left GGS in 1900 to set up his own school, St Salvator's, also in Geelong.7
Peter might not have contested the 1904 Geelong GC championship, having moved to Perth, and it was won by his brother Mark – the first of his three championships at Geelong (also 1907 and 1912). He was made a life member of GGC in 1917. Mark also won the Royal Melbourne Championship five times, the first time in 1893 (Easter – the event was played twice a year in 1893 and 1894) and then in 1894 (twice), 1895 and 18968. There's a nice quote in the RMGC history from RAA Balfour-Melville, who won an Australian Amateur title but could never beat him in a club event – ML Anderson always seemed to sink a long putt on the 18th!! Mark was runner-up in the 1905 Australian Amateur Championship at Royal Melbourne. In the twelve years between 1903 and 1914, Royal Melbourne won the State Pennant Championship nine times.
In 1904, PC Anderson became Headmaster at Scotch College Perth, Western Australia, where the first four years must have been an all-absorbing challenge for Anderson, the educator. He was intent on developing the learning of students despite the school's being in such a bad state on his arrival that the governors were thinking of closing it down9.
The school was sited in grossly inadequate temporary premises and was moved to a new site at Swanbourne, seven miles (10 km) west of Perth, where a benefactor offered land. Anderson at once insisted that, unlike his predecessor, he should participate in council meetings, and soon proved himself a vigorous organizer capable of ensuring the success of the move.10
Anderson brought to Scotch College a model of 'godliness and manliness', for he was a 'typical product of a Scottish Presbyterian background', tall at 6'4'', a strong disciplinarian whose main interest was in sport, and, although not an educational innovator, he was a 'reliable' leader. The notion of 'godliness and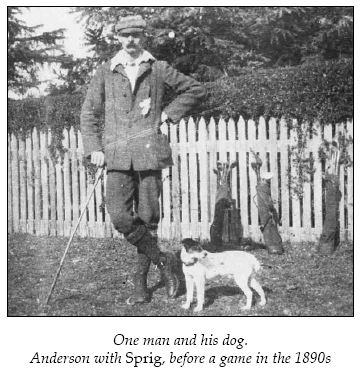 manliness' is at the heart of late nineteenth-century 'muscular Christianity', a term coined in response to the work of Charles Kingsley, associated with magazines like the Boys' Own Paper and a host of popular books like Tom Brown's Schooldays and Coral Island, and in recent years portrayed in films like Chariots of Fire.11
In 1908 we hear a mention of Anderson in relation to golf and then it is where no course or club exists. Scotch College is within sound of the ocean and Anderson and others thought vacant land on the water's edge might be the making of a golf course:
Westward towards the coastal sand dunes, a rough gravel track struggled up the hill from Cottesloe Railway Station and lost itself in the scrub at Broome Street. It was early June 1908, and the group of men who trudged up the naturally vegetated hill, battled against a driving westerly wind to the coastline. Among them were FD North, one of the earliest residents of Cottesloe, J M Drummond, T Robertson and PC Anderson of Scotch College. Their common interests were a desire to play golf and to construct their own links. One, Anderson, thought wistfully of his native Scottish links, of his succession of triumphs that had carried him to the very pinnacle of golf as British Amateur Champion. What a contrast between Scotland and this almost inhospitable Australian coastline. Yet, beneath the drab scrub and sandhills of Cottesloe, Anderson could see the possibilities of first-class greens, tees and fairways. It was worth a try. A few nights later, on the 11th of June 1908, before a log fire in the local Albion Hotel Commercial Room, sixteen men met and agreed to form the Cottesloe Golf Club12 13.
This was the origin of the Cottesloe Golf Club in 1908 and Anderson, along with NC Fowlie designed the course aptly named and still known as 'Sea View'. The opening of the nine-hole course by the State Governor on 11th September 1909 was only fifteen months after the initial committee meeting. A year or so before, Anderson laid out the first nine holes of the Royal Fremantle course, a few miles south from Perth.
In the first two years Anderson won major events at the Sea View course, was appointed Captain in 1912 and one of the Club's delegates to the Western Australian Golf Association in 1913. Fowlie set the initial course record, bettered by Anderson in 1913 (77) and again in 1914 (75). Fowlie was State Amateur Champion in 1914. Anderson won the Club Championship twice (1917, 1919) when his handicap was +4 and his age almost 50.
It is recounted that two Scotch College students, RD Forbes and KA Barker were invited by their illustrious headmaster to play a round of golf with him. Feeling very pleased with themselves after the completion of their game, one of the students on returning to the Clubhouse said 'Sir, would you care for a drink?' Anderson said, 'Yes young man, I should like a sherry thank you', whereupon the student dug deep into his pocket and produced a ten-shilling note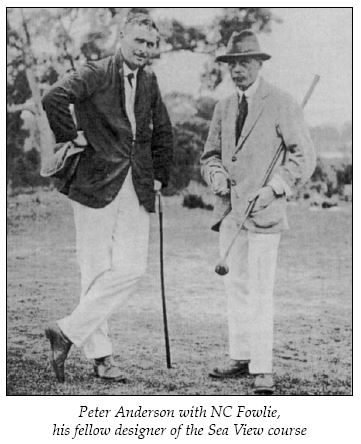 which he laid on the counter. The change however, was picked up and pocketed by Anderson, a costly but subtle reprimand for the young players. Forbes would later win the Club Championship ten times between 1921 and 193814.
Another story told of PC Anderson arose from the activities of a few boys from Scotch who developed a practice of trespassing on the course on Saturday mornings. When the chairman of Greens Committee asked 'the Boss' to exercise more control over his pupils, he received the reply: 'I look after the little beggars five days a week – someone else can worry about them in the weekend'.
PC Anderson won the last of his four Club trophy events in 1928 at the age of 57. He was a committee member from the Club's founding in 1908 until 1918 – in 1915 he was appointed Vice President, a position he held for 40 years until his death in 1955. He was appointed the Club's first life member in 193615. Cottesloe GC opened a new course at Swanbourne in 1931, near Scotch College, on seaside dunes/links land with few trees, five kilometres from Sea View. Anderson appears to have played no official part in the move, although the CGC History records that he 'continued to make a valuable contribution to the establishment of the present course'. His name does not appear in any of the records of the committee who created that course. Perhaps the designers Rees and Stevenson consulted him informally, perhaps even regularly. Given their inexperience in golf course design, it would seem feasible for them to consult the club's 'grand old man' who had designed a number of well known courses. However, the original CGC Swanbourne course would appear to have been largely or even solely the creation of WA Rees and TD Stevenson.16
There was evident dissatisfaction with this original design because the club engaged Alex Russell only a few years later (1934), to redesign the course completely. Russell's routing, totally different from the original, embodied the then traditional single loop of eighteen holes – nine holes out and nine holes back, like so many famous courses, such as St Andrews. This Russell routing has largely survived today and surely it would have been more to Anderson's liking. The Sea View course is still in play, bare of trees, on ground that slopes down to the sea.
PC Anderson's brother, Mark returned to Albany, Western Australia, around 1913. He stayed there, apparently, for the remainder of his life, was Albany Golf Club President in 1922-23 and father of Bill and Jean who were dominant Albany golfers and golf club administrators of the next generation. It is not known from club records whether Mark won any Albany Club Championships (which would seem likely) but he quite obviously became the 'grand old man' of the Albany GC. Presumably the Anderson brotherhood started the long close relationship between the Albany and Cottesloe golf clubs which, if not as strong today as once it was, still involves annual club visits.
The extension of Albany GC from nine to eighteen holes (planned in the '30s but executed in the '50s), was apparently designed by another Cottesloe Anderson – David, CGC's professional in the 1920s. The Albany GC history records that Mark was an eccentric soul who preferred to putt with a five iron. Tim Catling also tells the following story about his father, Tom, who played with Mark Anderson, when Tom was about fifteen:
Old Mr Anderson was a dour Scot, like my father's father, given to playing golf in silence. Mr Anderson had two remarkable shots from very difficult lies, and each time Dad asked him how he did it and each time Mark explained, and apart from that did not speak at all. At the end of the round Dad thanked Mr Anderson very much and the reply was 'that's all right, you're a nice lad but you talk too much!' .
After WWI, PC Anderson seems to have been largely absent from the formal CGC administration. However, he continued to play regularly and was a delegate to the WAGA. It is likely that his perpetual vice-presidency was a largely ceremonial father figure role, a continuation of the 'grand old man', the legendary British Amateur Champion of long ago. As such, he gave the CGC a much increased status and aura of credibility. Club members really looked up to him with awe and respect as a figure of considerable stature. Of course, this was assisted by so many of his Scotch College pupils and masters becoming members of the club. There is a huge Scotch old boy contribution to the club to this day. CGC's History 1893-1983 was compiled by Geoff Newman, a Scotch pupil who later taught under PC Anderson and eventually became the school's Deputy Headmaster.
Anderson was headmaster of Scotch for 41 years, retiring in 1945. During this period annual enrolments rose from 59 to 410; more than 3,000 boys passed through Scotch in his time. The first decade of his regime was marked by the provision of science laboratories, a cadet corps, sports grounds and a boatshed. By 1914 Scotch was established as one of the four leading independent boys' schools in Western Australia, and for the next 30 years Anderson was doyen among the Protestant headmasters, setting an educational model whose influence extended well beyond his own college. He was a masterful administrator, careful in times of financial stringency but insistent on bold planning whenever opportunity permitted. Impressively built and inclined to be set in his opinions, he earned the nickname 'Boss', but was respected for his scrupulous fair-mindedness and capacity for hard work. Legends generated around him,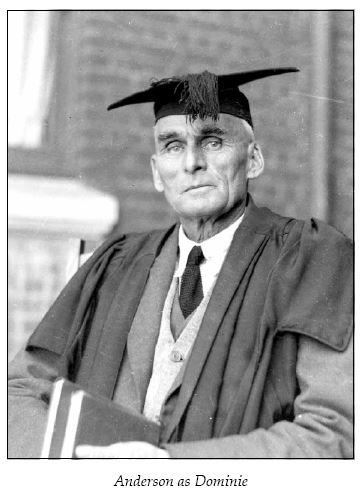 such as the yarn that he once caned the entire school in an attempt to put down smoking. He was awarded the CBE in 194717.
Peter Anderson's great passions for education and golf were played out in three distant arenas – St Andrews in Scotland, and Geelong and Perth in east- and west Australia. Not only was Peter Anderson's passion for each at a high level but his persistence and determination through difficult times of world wars and the Great Depression were a significant testimony to his character, as was the quality of his golf. The history of golf in Australia is both how the golf was transplanted to Australia and the development of golf once there. Peter Anderson stands tall in both these dimensions of our history. The heritage of golf he brought to Australia, in how he played the game, the clubs he used and his understanding of the game and the course on which it is played, came from the foundation of golf, at the Old Course, St Andrews. When we think of people like Peter Corsar Anderson, we recognise and respect the people who were the founders and developers of golf in this country, on whose shoulders were the burdens of building courses and clubs and the standards of play, and whose passion was encouraging young golfers to play the game well, in its true spirit. These are the shoulders on which we modern Australian golfers stand. Such is the history of golf in Australia.
With generous contributions gratefully received from

Alasdair Courtney

, Archivist, Scotch College Perth,

Malcolm Purcell

and

Fatima Pandor

of Perth,

Michael B de D Collins Persse

, Keeper of the Archives, Geelong Grammar School,

Ms Moira Drew

, Museum Curator for Australian Golf Union/Golf Society of Australia and Archivist, Royal Melbourne Golf Club,

Graham McEachran

of Cottesloe GC History Group and recognising the encouragement from

John Pearson

, Editor of Through the Green,
Notes
1
The History of the Geelong Golf Club by

Gordon Long BA, Dip Ed

(Hawthorn Press 1967)
2
In The History of the Geelong Golf Club, quoting Golf World 1957 taken from the St Andrews Citizen
3
Geelong Grammarians 1855-1913 by

Justin J Corfield

and

Michael Collins Persse

(1996) page 711
4
Anderson was from St Andrews but he won the British (not world) championship at Prestwick.
5
From a 60 Years on memoir in 1955 by

Noel Learmont

h (1880-1970) GGS: 1895-98
6
The Geelong Grammar School Quarterly July 1897
7
Geelong Grammarians 1855-1913 by

Justin J Corfield

and

Michael Collins Persse

(1996) page 711
8
Information accompanying AGU Museum item; Melbourne GC became Royal Melbourne GC in 1895
9
Building a Tradition – A History of Scotch College Perth 1897-1996 by

Jenny Gregory

(UWA Press 1996)
10
Obituary by

Professor Geoffrey C Bolton

quoting Three Schoolmasters Melbourne Studies in Education
1976,

S Murray-Smith

Ed.
11
Building a Tradition – A History of Scotch College Perth 1897-1996 by

Jenny Gregory

(UWA Press 1996)
12
From The History of Cottesloe Golf Club 1908-1983 compiled and edited by

GH Newman
13
Anderson was one of those who joined the club that night.
14
From The History of Cottesloe Golf Club 1908-1983
15
ibid
16
ibid
17
Obituary by

Professor Geoffrey C Bolton
This article first appeared in the British Golf Collector's Society publication 'Through The Green' in September 2005, and is reproduced here with the kind permission of the author.
---
W. A. Windeyer, golfer: player, administrator and referee c. 1900-1930
The following article was written by AGHS member Jim Windeyer, grandson of W. A. Windeyer. Jim would like to acknowledge the valuable assistance given in the course of his research by fellow AGHS member Don Dunne.



W. A. Windeyer entered the golfing scene in 1900 as a member of the founding committee and quickly secretary of the Hunters Hill Golf Club. Of the initial thirty members only four had experience as golfers and he was not one of those. However in 1904 he was the club champion and a member of the team that won the Suburban and Country Golf Association Cup in 1907.

On a bigger scene – after all the Hunters Hill course was very short confined as it was to the grounds of the Gladesville Mental Hospital – Windeyer also had some success. He was second in the Hampden Cup in 1911 – although the standard was reported as being 'very poor, and badly in need of a tonic of some description'.1  The next year he just missed out on a place in the NSW amateur team.

However Windeyer's significant place in the early history of the game in Australia comes from his role as an administrator and referee.

Left: W. A. Windeyer in 1926 - champion and captain of Hunters Hill Golf Club (Evening News, 16 August 1926).
Interclub competition had begun in 1901 when Hunters Hill played Concord. As competition expanded rapidly some overall organizing body was called for. It emerged from Hunters Hill as the Suburban and Country Golf Association in 1902 with Windeyer as secretary for ten years and president for another twenty. In the Hunters Hill club it was acknowledged that his energy and enthusiasm had been instrumental in developing the strong spirit of the club.
Hunters Hill Golf Club - 1901
Standing

: N. F. Christoe, D. Fell, F. H. Blaxland, G. W. Phillips, V. Le Gay Brereton, J. W. S. Lucas, F. H. Tronson,
R. C. Lethbridge, W Davy.
Seated

: C. T. Metcalfe, J. W. Hope, H. F. Barton, R. Smith, H. R. Lysaght, F. A. A. Russell, T. Buckland.
Foreground

: H. D. Walsh, W. Leigh, H. M. Suttor, C. F. Broad, G. H. Partridge, P. Allan, A. W. I. Macansh,
W. A. Windeyer, H. C. Buchanan, A. J. Stopps.
(Photo courstesy of Mr. Jim Windeyer -

click to enlarge)
As secretary of the new organization he immediately brought his energy to organizing the first Country Week in 1902. The success of it can be judged by the final dinner: 100 golfers present and entertainment including Banjo Paterson reading his poems, which 'brought down the house', and all present agreeing it was 'the jolliest golf dinner they had ever assisted in'. 
It had all been played in good humour including Windeyer playing one day in a top hat – to win a bet of a sovereign. As reported 'Mr. Windeyer belongs to the legal profession and he didn't let that sovereign pass him'.2